Kevin Greatrex - Baseball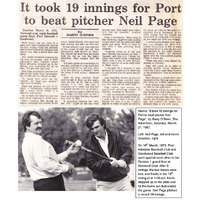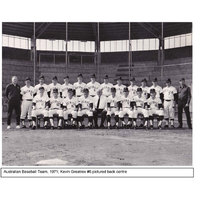 Kevin Greatrex, Claxton Shield Helms Award winner and four-time Capps Medal winner, started playing baseball as a 13 year-old high school boy. His father, John (Jack) Greatrex was president of the Port Adelaide District Baseball Club from for a number of years and naturally Kevin began his baseball career here. It soon became evident that Kevin was destined for baseball with his emerging talents in hitting and all-round field skills. First selected in a South Australian State Team at the age of 13, Kevin began his extensive playing career representing Australian baseball on both an interstate and international level for 20 years. Following his selection in the SA Claxton Shield team and the Australian Baseball team as first baseman in 1963, Kevin showed a desire to excel in all aspects of the game, but was known best for his hitting. His playing was soon complemented by coaching experience of Claxton Shield teams and Australian touring competitions. Kevin's experience in the US with the Cincinnati Reds Minor League Baseball team, as well as his extensive playing experience through touring in Japan, Korea, The Philippines and Europe, allowed him to introduce new concepts to Australian Baseball training and thought. With a level 3 coaching accreditation, Kevin continues to study the game and pass on his knowledge and experience to both players and coaches of baseball and softball.
Playing Career
Junior South Australian Team:
1958 (Highest Batting Average), 1959, 1960, 1961, 1962
Claxton Shield Team (SA):
1963, 1965, 1966, 1967, 1969, 1970, 1971, 1972, 1973, 1974, 1975, 1976, 1977, 1978, 1979, 1980, 1981, 1982 and 1983
Claxton Shield Team (NT):
1984, 1985, 1986 (player – coach), 1989 (player)
Australian Baseball Team:
1963, 1966, 1967, 1968, 1969, 1970, 1971 1972, 1973, 1974, 1975, 1976, 1977, 1978, 1979, 1980, 1981, 1982 (Captain from 1968 onwards), 1983 (coach)
Professional selection in USA with Cincinnati Reds Minor League 1967 – Kevin Greatrex and Dick Shirt were the first Australians to play professional baseball in US.
Offered professional contract in Japan 1971 by three professional Japanese teams, but during the warm-up series in Korea, Kevin suffered broken bones in his hand which stopped further negotiations
Port Adelaide District Baseball Club
Division 1 player from 1960 onwards
500 games award
life member
Player for local SA clubs:
Port Adelaide
Northern Districts
West Torrens
Henley and Grange
Glenelg
Woodville
Australian Team Tours:
Korea 1971, 1974, 1975, 1979, 1982, 1983
Japan 1968, 1976, 1977, 1979, 1980
Philippines 1969, 1973
Italy and Holland 1978
Canada 1985
Coaching Career
South Australian Claxton Shield Team playing coach:
1979, 1980, 1981, 1982, 1983
Northern Territory Claxton Shield playing coach:
Head Coach Redsox local Night Baseball Team:
Port Adelaide Division 1 Head Coach and player:
1968 – 1978, 1980 – 1983
six-time premiership coach
Australian Baseball Team playing coach:
1980 (World Championships, Japan)
1982 (World Championships, Seoul, Korea)
1983 (B.F.A series, Seoul)
1985 (B.F.A. series, Perth)
1985 (Intercontinental Cup, Edmonton, Canada)
Australian Baseball Team Batting Coach:
Head Coach local SA clubs
Softball Australia Softball Clinic Guest Speaker
Private Coaching sessions 1998 – 2015
Accredited Level 3 Coach
Kevin is continually asked for advice and volunteers his knowledge and experience
Awards
Best and Fairest Under 18 Interstate Competition:
Most Valuable Player Award Australian Junior Championships:
Batting Award Junior Championships:
Batting Awards for club competition:
Claxton Shield Helms Award Winner:
1966 Most Outstanding Player in Australia
Capps Medal Winner:
1966
1970/1971
1972/1973
1975/1976
Todd Medallion Winner 1975, in this year the competition was split into two and Port Adelaide was in the lower group. The Todd Medallion was awarded for most outstanding player in this division. This format was discontinued the following year.
Most Valuable Player Award for Australia:
S.A.B.L Batting Award:
Claxton Shield Batting Award Winner:
All Stars Team:
Australian Team Japan Tour Highest Batting Average:
The Advertiser Award Best All-rounder:
Inaugural Inductee of the Australian Baseball Hall of Fame:
Claxton Shield 75th Anniversary Team of the Century (SA team) 2009
Claxton Shield 75th Anniversary Team of the Century (Australian team)
Other Involvement
SABL President:
Scout for American Major League Baseball teams:
Milwaukee Brewers (numerous years)
Montreal Expos (numerous years)
Port Adelaide District Baseball Club Management Committee:
Australian Baseball Federation Board:
Australian Baseball League Board:
When working as a scout Kevin signed David Nilsson in January 1987. David went on to have a highly successful career in Major League Baseball
SABL Under 14 Baseball Division 1 named the 'Kevin Greatrex League'